Square Ass
Yes, you read that right. Square toilets for square asses.  I've heard of dumb asses, stupid asses, fat asses, skinny asses, smart asses, and a few other descriptive types.
I have to say, I had never heard of a square ass until, during a home inspection in Carlisle, KY, I found a square toilet in a 1950's era house.  Surprised me but I thought it was probably a 50's thing that didn't last.
Surprise!  A couple of days ago while inspecting a country home in Paris, KY, I found not one but TWO square toilets.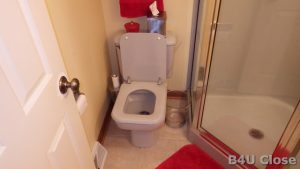 The home was only built in 1986.  I guess the trend lasted a little longer than I thought.
Want to see more cockamamie stuff I, and other inspectors, have found.  Check out my Cockamamie Kentucky Home Inspector Photos
Don't forget to visit my blog for home maintenance tips and other things I find noteworthy or humorous.